Before diving into the specifics of what makes the Centerpoint Tradition 405 truly remarkable, let's first appreciate the balance of its design.
Weighing in at 7.5lbs and boasting a draw weight of 220lb, it achieves an impressive equilibrium between portability and power.
It promises the speed of 405 FPS, which makes it a formidable tool in the hands of any hunter or outdoor enthusiast.
This review will explore the various features and accessories that come with the Centerpoint Tradition 405, providing a comprehensive understanding of what it has to offer.
So, whether you're a seasoned veteran in the world of crossbows, or you're just starting your journey, stay tuned as we delve into the depths of this impressive piece of kit.
You're about to discover why the Centerpoint Tradition 405 could be your next best outdoor companion.
Specs
Price: $428.97
Brand and Model: Centerpoint Tradition 405
Speed (FPS): 405 FPS
Draw Weight: 220lb
Weight: 7.5lb
Accessories: 4×32 illuminated scope, 3 20-inch carbon arrows, detachable quiver, cocking sled, and rail lube.
Width: 15″ Cocked / 18″ Uncocked
Stock: Stealth Black
CNC-Machined Aluminum Rails and Cams
Ball Bearing Retention Spring
Wide Finger Guards
Whisper Silencing System
Attached Quiver
Features
The Centerpoint Tradition 405 impresses not just with its raw specs, but with the thoughtful features embedded in its design. Starting with its 15″ cocked / 18″ uncocked width, this crossbow is built for easy bag carry and field carry, ensuring you can maneuver through the outdoors with ease. It's the perfect balance of size and portability, without compromising on power.
The stealth black stock is a standout feature that offers adjustable comfort and stability. This design element is not just about aesthetics – it directly impacts your performance by helping you take the perfect shot. It's ergonomic, comfortable, and adds a stealthy edge to your hunting game.
When it comes to durability and precision, the CNC-machined aluminum rails and cams are a game-changer. They ensure your shot placement is repeatable and accurate, significantly reducing the margin for error. These components contribute to the overall hardiness of the crossbow, ensuring it can withstand repeated use in various outdoor conditions.
The ball bearing retention spring is another unique feature that guarantees repeatable arrow tension with every shot you take. This consistency in arrow tension is critical for maintaining accuracy across multiple shots.
For safety, the crossbow features wide finger guards. This feature provides additional protection while cocking and firing, ensuring that you can focus on your target without worrying about injuring your fingers.
One of the standout features of the Centerpoint Tradition 405 is the Whisper Silencing System. This innovative multi-point system reduces vibrations to mute shots, making it perfect for hunters who value stealth and discretion.
Lastly, the attached quiver provides ergonomic arrow storage and quick access. This means you can carry your ammunition conveniently and reach for it quickly when that perfect shot opportunity arises.
In conclusion, the Centerpoint Tradition 405 crossbow is a well-rounded, feature-packed tool that is worth considering for any hunting or outdoor sport enthusiast. It blends power, precision, and thoughtful design into a package that's hard to resist.
My Personal Experience
My first encounter with the Centerpoint Tradition 405 came on a crisp, cool autumn morning.
The sun was barely peeking over the horizon, and the woods were filled with the sound of rustling leaves, signaling the beginning of the hunting season.
I remember feeling a mix of anticipation and excitement as I unboxed the Tradition 405, immediately impressed by its sleek stealth black stock and solid construction.
My initial test was in my backyard, dialing in the 4×32 illuminated scope. I was amazed by how quickly I was able to zero in the scope.
After a few adjustments, I was hitting bullseyes on my target from 30 yards out with the kind of consistency I hadn't experienced with previous crossbows in the same price range.
A week later, I found myself nestled in a blind, the early morning fog just beginning to lift. I was tracking a white-tailed deer that I had spotted in the distance.
The Tradition 405 was resting comfortably against my shoulder, the adjustable stealth black stock making it feel like an extension of my body.
The CNC-machined aluminum rails and cams instilled a sense of confidence in me, knowing that my shot placement would be accurate when the moment arrived.
And then it happened. The deer stepped into a clearing about 40 yards out. I slowly raised the Tradition 405, feeling the wide finger guards protecting my fingers as I pulled back on the string.
The ball bearing retention spring ensured a smooth and consistent pull.
As I lined up my shot, the Whisper Silencing System came into play, reducing vibrations and ensuring my shot wouldn't startle my target.
Releasing the arrow, I watched as it hurtled towards the deer at a speed of 405 FPS.
The shot was accurate, the impact was clean, and the deer barely took a step before it went down.
It was a moment of realization, an affirmation of the power and precision that the Tradition 405 promised.
Over the next few months, I found myself relying on the Tradition 405 for more of my hunting trips.
The attached quiver was a godsend, allowing quick access to my arrows, and the crossbow's weight and uncocked width made it easy to carry on longer treks.
One incident I'll never forget was when I was out hunting in the rain.
Despite the wet conditions, the aluminum rails and cams showed no signs of rust or wear, proving the crossbow's durability.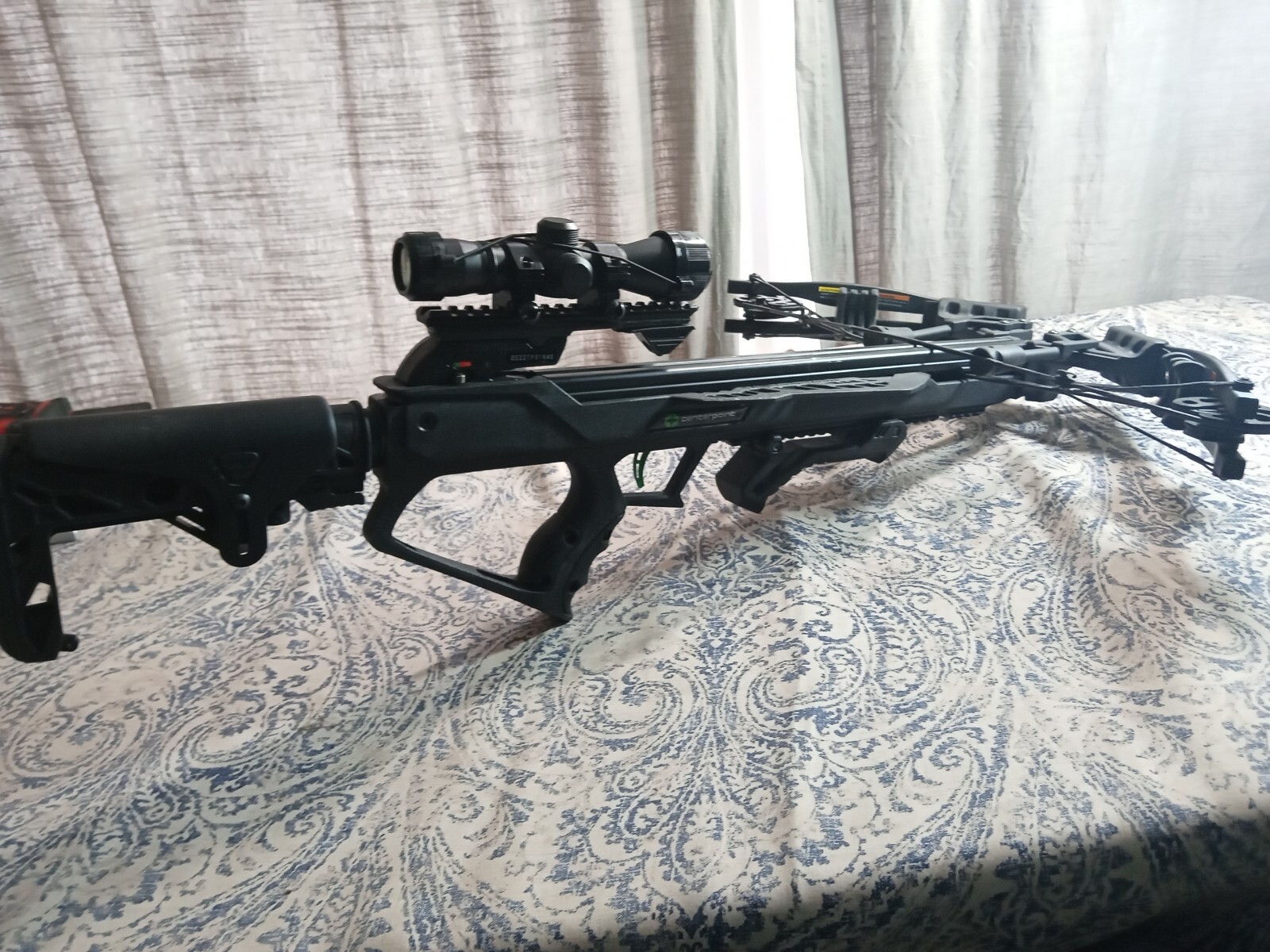 Price and Value for Money
The Centerpoint Tradition 405 crossbow is priced at $428.97, placing it in the mid-range bracket for crossbows.
As with any investment, one of the most important questions to ask is whether the product offers value for the money spent.
Let's break it down.
Right off the bat, the Tradition 405 impresses with its powerful 405 FPS speed and hefty 220lb draw weight.
These are features typically found in high-end crossbows, and to see them at this price point is quite remarkable.
But it's not just about raw power.
The Tradition 405 also boasts an array of features aimed at enhancing user experience, such as the adjustable stealth black stock for personalized comfort, wide finger guards for safety, and the Whisper Silencing System for stealthy hunting.
Let's not forget the CNC-machined aluminum rails and cams, which contribute to durability and precision.
These components are designed to withstand the rigors of outdoor use and ensure your crossbow performs optimally for years to come.
Then there's the suite of accessories included in the price.
You get a 4×32 illuminated scope, three 20-inch carbon arrows, a cocking sled, rail lube, and a detachable quiver.
These aren't just add-ons; they're essential components that you'd likely need to purchase separately with other models.
When you take all these factors into account, it becomes clear that the Centerpoint Tradition 405 offers excellent value for the price.
This crossbow gives you high-end features and accessories at a mid-range price point, making it a fantastic option for both beginners and seasoned hunters looking for a reliable, well-rounded hunting tool.
In conclusion, the Centerpoint Tradition 405 is more than just a crossbow – it's an investment into a tool that promises to enhance your hunting experience.
Given its features, durability, and the suite of accessories it comes with, it's safe to say that it offers substantial value for the money.
The Drawbacks
While the Centerpoint Tradition 405 is a standout piece of equipment, it's only fair to note that no product is without its minor drawbacks.
One aspect that some users might find challenging is the draw weight of 220lb.
While this contributes to the crossbow's impressive power, it does require a fair amount of strength to cock, even with the included cocking sled.
This might not be an issue for seasoned hunters or those with a good level of physical strength, but it could pose a challenge for beginners or younger users.
Another area that could use some improvement is the instruction manual. While it covers the basics, it lacks detailed information about certain aspects of assembly and maintenance.
I remember having a bit of a head-scratching moment when I first set up the scope. A more detailed guide or perhaps an online tutorial would go a long way in smoothing out the setup process.
Finally, while the crossbow itself is relatively lightweight at 7.5lb, once you attach all the accessories (particularly the quiver full of arrows), it can start to feel a bit heavy during longer treks.
During one hunting trip, I had to walk quite a distance to my hunting spot, and I noticed the added weight towards the end of my walk.
It was manageable, but it's something to consider if you plan on using it for extended periods.
That being said, it's essential to note that these are relatively minor issues in the grand scheme of things. None of these points significantly impacted my overall experience with the Tradition 405.
In fact, the benefits and features of this crossbow far outweigh these minor inconveniences. It's a robust, high-performance crossbow that offers exceptional value for its price.
Should You Buy? Concluding the Review
In conclusion, should you buy the Centerpoint Tradition 405 crossbow? Based on my experience and thorough assessment, I would say a resounding yes.
To put it simply, the Centerpoint Tradition 405 offers excellent value for money.
It's a versatile and reliable crossbow suitable for both beginners and seasoned hunters. It performs exceptionally well in various outdoor conditions and is built to last, making it a worthwhile investment for any hunting or outdoor sport enthusiast.
In the world of crossbows, the Centerpoint Tradition 405 stands out as a powerhouse, combining top-tier features with a price point that's hard to resist.
If you're in the market for a new crossbow, this one definitely deserves your consideration.
Click here to learn more about the Centerpoint Tradition 405 and get the best price on Amazon.