In the world of crossbows, affordability often walks hand in hand with compromise, but every so often, a product comes along that challenges this notion.
Enter the Wildgame Innovations XR250 Crossbow, a model that modestly sits on the shelf with a price tag of $120, yet promises to deliver far beyond its cost.
As an avid archer and crossbow enthusiast, I've spent a substantial amount of time wielding this tool of precision, getting to know its quirks, qualities, and capabilities.
In this review, I will share my personal journey with the XR250, diving deep into its performance, design, and overall value.
We'll look at the accuracy and power of this crossbow, its ease of assembly and use, and the quality of materials and construction.
I'll also touch on the accessories that come packaged with it, and how they contribute to the overall experience.
Whether you're a seasoned archer seeking a budget-friendly addition to your arsenal, or a beginner looking for an entry into the world of crossbows, this review aims to provide a comprehensive insight into what you can expect from the Wildgame Innovations XR250 Crossbow.
Let's delve into the features and specifications of the Wildgame Innovations XR250 Crossbow.
This crossbow is packed with numerous features to enhance your hunting experience, and we will unpack each one to give you a comprehensive understanding of what this product has to offer.
Specifications:
Speed: 250 Feet Per Second
Weight: 6.6 lbs
Dimensions: 32.8 x 10.2 x 4.6 inches
Color: Elude Camo
Included in package: Quiver, Two 18″ Arrows, Rope Cocking Device, Red Dot Sight​​
Features:
Recurve Design: The XR250 is a recurve crossbow, a design known for its reliability and ease of use. It's a classic design that provides accurate and true shooting, making it a reliable choice for both novice and experienced hunters​.
Lightweight: With a weight of just 6.6 lbs, the XR250 crossbow is easy to carry during long hunting trips. Its lightweight nature doesn't compromise its power, as it still manages to deliver a speed of 250 feet per second​​.
Slotted Magnesium-Cast Barrel: This feature contributes to the crossbow's accuracy. The magnesium-cast barrel is slotted, which helps in reducing the weight and improving the balance of the crossbow​​.
Weaver-Style Rail: The XR250 includes a weaver-style rail, allowing for the attachment of a variety of accessories, further enhancing your hunting experience​​.
Ready-to-Hunt Package: The XR250 comes with a complete hunting package, which includes a quiver, two 18″ arrows, a rope cocking device, and a red dot sight. This makes the XR250 not only a great crossbow but also a cost-effective solution, as it includes everything you need to start your hunting journey​.
Red Dot Sight: The crossbow scope is a single red dot 30mm sight with a 7-level brightness adjustment. This feature allows for precision aiming in varying light conditions, increasing your chances of a successful hunt​​.
In the following sections, we will delve into a hands-on review of these features, discussing their practicality and effectiveness in a real-world hunting environment. Stay tuned!
My Personal Experience
Ah, the tales I could tell about the Wildgame Innovations XR250 Crossbow!
As a seasoned hunter, I've had my fair share of experiences with different crossbows, but my encounters with the XR250 have left quite an impression.
The first time I held the XR250, it was on a chilly morning, just as the sun began to paint the sky with hues of orange and pink.
I was heading out for a weekend hunting trip in the dense woods near my home. What struck me immediately about the XR250 was its lightweight design.
At just 6.6 lbs, I could easily carry the crossbow on my shoulder, a fact that came in handy as I trekked through the underbrush and hiked up steep hills.
Despite its lightweight nature, the crossbow felt sturdy and well-made in my hands, providing a sense of reliability and confidence.
The recurve design of the XR250 was another notable feature. As a traditionalist at heart, I've always had a soft spot for recurve crossbows.
There's something about their simplicity and elegance that resonates with me.
The XR250 didn't disappoint in this regard. It was straightforward and easy to use, without any of the complex mechanisms that sometimes accompany other types of crossbows.
This simplicity, combined with the included rope cocking device, made the loading process a breeze, allowing me to focus more on the hunt and less on the equipment.
The first shot I took with the XR250 was a revelation. Its slotted magnesium-cast barrel and red dot sight worked together to deliver an arrow with impressive accuracy.
I remember aiming at a deer about 30 yards away. The red dot sight, with its 7-level brightness adjustment, provided clear visibility even in the morning fog.
The arrow flew straight and true, hitting the target almost exactly where I had aimed. The sense of satisfaction was indescribable.
Throughout my hunting trip, the XR250 remained a reliable companion.
Its lightweight design didn't tire me out, and the weaver-style rail allowed me to attach a flashlight for hunting in the early hours of the morning.
The complete hunting package that came with the crossbow, including the quiver and the arrows, meant that I had everything I needed right out of the box.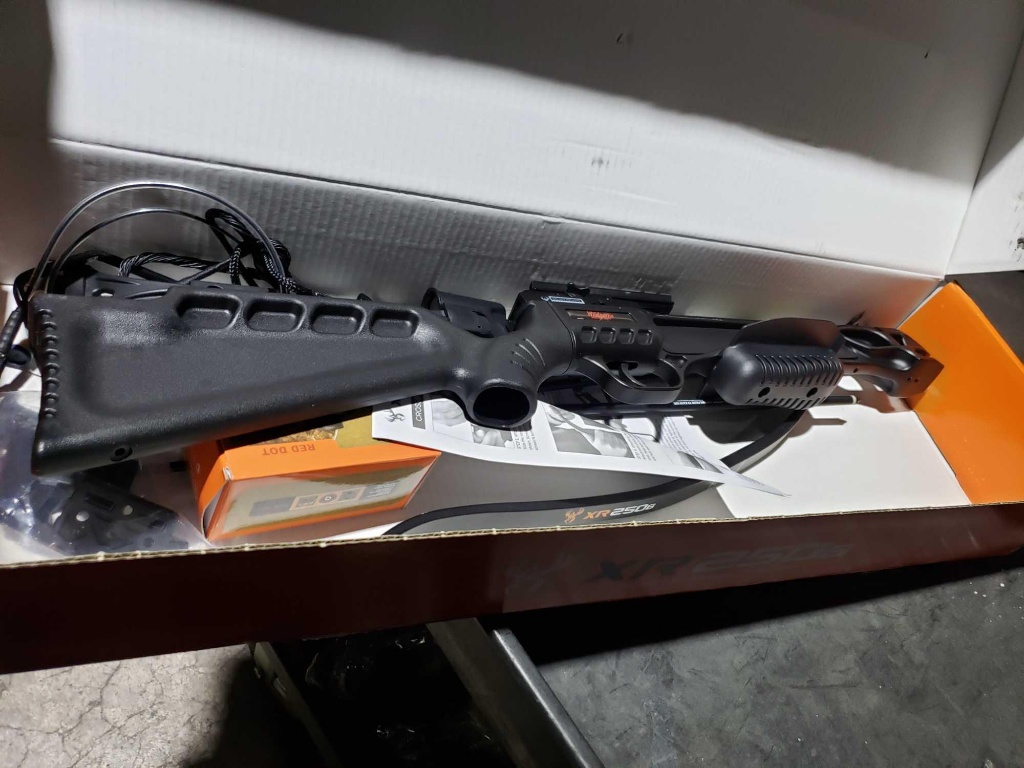 Price and Value for Money
At $120, the Wildgame Innovations XR250 Crossbow represents exceptional value for money. When it comes to crossbows, one often expects to pay a hefty price for a quality product.
However, the XR250 manages to defy this expectation, providing a reliable and well-made crossbow at a fraction of the cost of many high-end models.
The XR250 doesn't just deliver in terms of the crossbow itself, but also in the full suite of accessories it comes with.
Included in the package are a quiver, two 18″ arrows, a rope cocking device, and a red dot sight.
These add-ons contribute to the overall value, as they mean you can start your hunting journey right out of the box without having to make additional purchases.
In terms of performance, the XR250 offers a speed of 250 feet per second, which is quite impressive considering its price point.
Additionally, its lightweight design, recurve style, and slotted magnesium-cast barrel for accuracy further enhance its value.
In conclusion, the Wildgame Innovations XR250 Crossbow offers a powerful combination of affordability, quality, and performance. Its price point, coupled with its features and included accessories, makes it an excellent choice for those seeking value for their money in a crossbow.
The Drawbacks
While the Wildgame Innovations XR250 Crossbow offers many strengths, it's only fair to also discuss a few of its drawbacks. No product is without its flaws, and the XR250 is no exception.
One minor issue I've personally experienced with the XR250 relates to its accuracy at very long distances.
While the crossbow performs admirably up to medium ranges, I found that accuracy can start to falter somewhat at longer distances.
It's important to remember, however, that most hunting shots with a crossbow will occur within a much closer range, typically around 30-40 yards, and at these distances, the XR250 performs excellently.
Another minor point worth mentioning is the arrows included in the package.
While they are perfectly functional, seasoned hunters may prefer to upgrade to more high-quality arrows for better performance and durability.
What are people saying?
The Wildgame Innovations XR250 Crossbow has garnered positive reviews from its users, who appreciate its value for money, reliability, and overall performance. Here are a few highlights from real-world users:
Rebecca: She bought the XR250 for her husband and has been pleasantly surprised by its power and accuracy.
She noted that the crossbow shoots much further than expected, so much so that they lost several arrows initially. She advised buying cheap arrows for practice.
Once her husband got the hang of it, he was able to hit a can at the end of a field.
The XR250 has become such a loved item in their household that she's considering getting one for herself.
Rodrich: He initially thought the XR250 would be light and cheaply made given its affordable price.
However, he was pleasantly surprised to find that the crossbow has a solid weight and is made from good quality materials.
His 21-year-old son, who saw the crossbow, now wants one for himself so they can go hunting together.
These reviews highlight the affordability, durability, and performance of the Wildgame Innovations XR250 Crossbow, affirming its reputation as a solid choice for both beginners and seasoned hunters alike.
Should You Buy? Concluding the Review
In the world of crossbows, the Wildgame Innovations XR250 stands out as a fantastic option, especially when considering its affordable price tag.
Its impressive features, combined with its reliability and ease of use, make it an excellent choice for both novices and seasoned hunters alike.
From its lightweight design and recurve style to its slotted magnesium-cast barrel for accuracy, the XR250 shows that a lower price does not necessarily equate to lower quality.
The speed of 250 feet per second that it offers is quite remarkable for its price point, and the comprehensive hunting package that accompanies it adds significant value.
While it's true that the XR250 may not have the range of some more expensive crossbows, it's important to remember that most hunting shots with a crossbow occur at closer ranges, where the XR250 performs excellently.
And while the included arrows are satisfactory, upgrading to more premium arrows is a simple adjustment that can enhance your hunting experience.
In conclusion, the Wildgame Innovations XR250 Crossbow offers substantial value for its price.
If you're looking for a reliable, easy-to-use crossbow that won't break the bank, the XR250 is well worth your consideration.
Its blend of affordability, performance, and quality is difficult to beat. If you're just starting your journey into crossbow hunting, or even if you're a seasoned hunter looking for a reliable backup crossbow, the XR250 is a choice you're unlikely to regret. Happy hunting!
Click here to learn more about the Wildgame Innovations XR250 and get the best price on Amazon.